Coming Soon: Our Autumn List Revealed
13 August 2015
Ok, the summer may be vanishing and the days getting shorter, but it's not all bad. In fact, we can prove without doubt that there are at least six reasons to be looking forward to the autumn.
Confectionary storms? Check. Pearls of cinematic wisdom? Check. Out-of-control biotech experiments? Check. That's right, folks: our autumn list is here, and it has it all.
Reason 1 (to be wishing away the summer):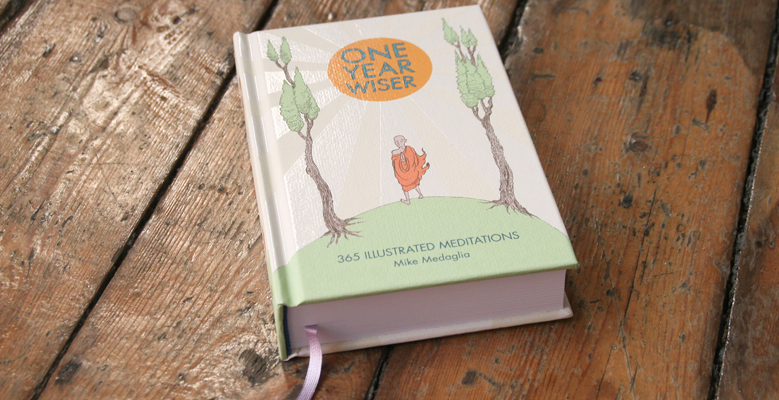 In
One Year Wiser
, the wisdom of the world's great thinkers is brought to life by the beautiful hand-drawn illustrations of
Huffington Post
blogger and Zen Buddhist practitioner Mike Medaglia. From Rumi to Roosevelt, the Buddha to Martin Luther King Jr., the meditations on Mike's blog, oneyearwiser.com, are inspiring, thought-provoking and beautifully illustrated. For your daily benefit, we've collected a single illustrated meditation for every day of the year. Plus, there's a launch event at Gosh! Comics on Wednesday 9th September. Come along – there will be cup cakes!
Reason 2: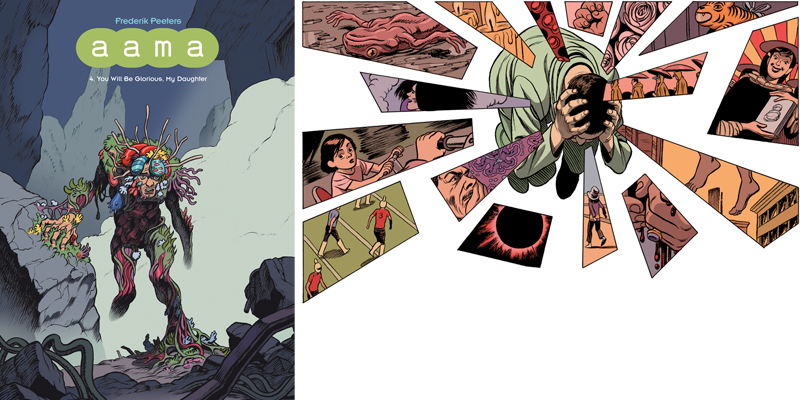 The final volume of Frederik Peeters' Angoulême-winning science fiction series,
You Will Be Glorious, My Daughter
, is mind-bending and brilliant. Following the loss of his companions in the anarchic crucible that used to be Ona(ji), Verloc Nim has merged with the rogue biotech experiment Aama. Exploring the limits of this remarkable new relationship, he sets his sights on the one place that might hold some answers: home.
Reason 3: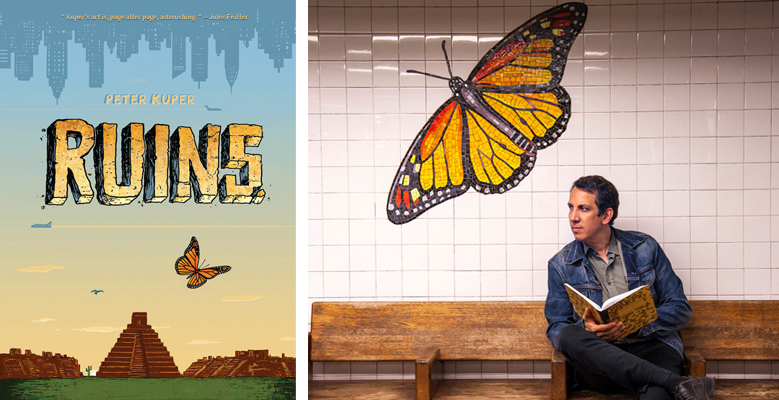 Peter Kuper's long-awaited new graphic novel is finally here – and it was definitely worth the wait.
Ruins
is the story of a young, creative New York couple who take a sabbatical year in Oaxaca, Mexico. For Samantha, it is the opportunity to revisit her past. For George, it is an unsettling step into the unknown. For both of them, it will be a collision course with political and personal events that will alter their paths and the town of Oaxaca forever. In tandem, the remarkable and arduous journey that a monarch butterfly endures on its annual migration from Canada to Mexico is woven into
Ruins
. This creates a parallel picture of the challenges of survival in our ever-changing world. It also makes for some stunning spreads.
Jules Feiffer has said of
Ruins
, "Kuper's art is, page after page, astonishing." Seriously, when you see it, you'll agree!
Reason 4: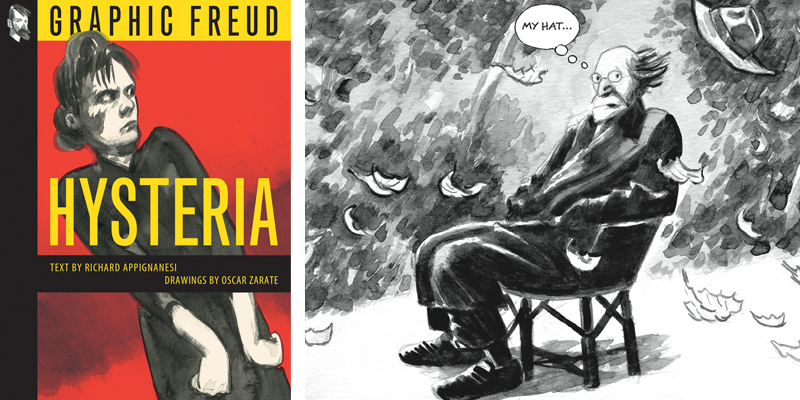 The second title in our Graphic Freud series,
Hysteria
follows the early career of Sigmund Freud, from his training in neurological research to his establishment of a therapeutic practice in Vienna. Taking in the psychoanalyst's earliest clinical experiences, his studies alongside Charcot at La Salpêtrière and his interest in the work of his friend and colleague Joseph Breuer, Richard Appignanesi and Oscar Zarate introduce the characters and case histories that inspired the development of a revolutionary new clinical therapy.
If you want to learn about the strange and fascinating characters that populate Freud and Breuer's
Studies in Hysteria
, the founding text of psychoanalysis, then this is the book for you. If you want to gain an insight into the life and mind of a genius, or simply to admire some incredible artwork, this is also the book for you.
Reason 5: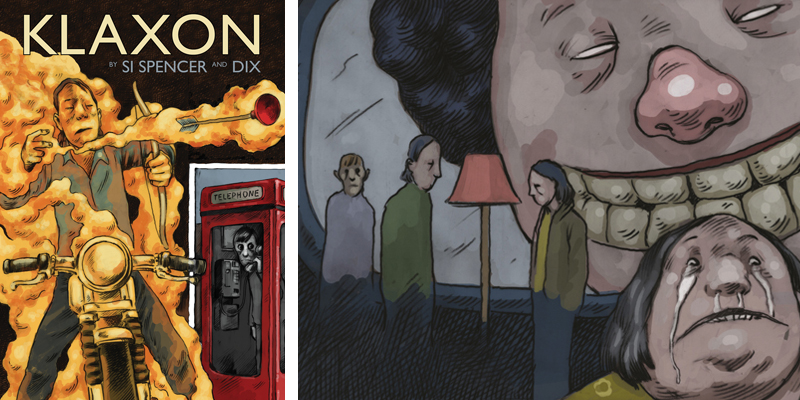 Klaxon
is different. It's also difficult to explain.
Tank Girl
creator Alan Martin puts it thus: "[It's] an urban nightmare of finely balanced dialogue and artwork, as if Raymond Briggs teamed up with Daniel Clowes and they dropped the bad brown acid. Which is my idea of an evening well-spent."
Three wasters, high on wax and cavity wall insulation, fall under the malign influence of their neighbours' landlord, the grim, grinning embodiment of evil Mr Stapleton. Milk binges, metamorphoses, freak falls of liquorice allsorts ensue. I'll say no more for now, except…this book is amazing!


Reason 6: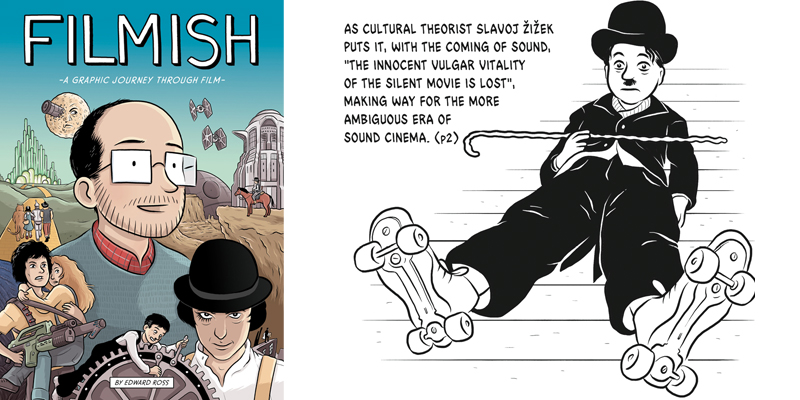 In
Filmish
, Edward Ross uses comics to uncover the magic and mechanics behind our favourite movies. Exploring everything from censorship to set design, Filmish spotlights the films and film-makers that embody this provocative and inventive medium, from the pioneers of early cinema to the innovators shaping the movies of today, from A Trip to the Moon to Inception and beyond. Filmish is as much a paean to the enduring medium of cinema as it is is a lucid and lively guide to the stars and stories that have shaped our lives for more than a century.

Of course, there are other reasons to be looking forward to the end of summer – Thought Bubble, The Lakes, Christmas – but these are six of the best.
Tags: