Halloween Celebration: Klaxon Launches at the Lord Clyde in Islington
27 October 2015
This Saturday, we're celebrating Halloween with the launch ofSi Spencer and DIX's disturbing urban horror story
Klaxon
.
Join us for a good ol' knees-up at Islington's finest,
The Lord Clyde
on Essex Road, from 1.30-3.30pm. There'll be booze, bands and liquorice allsorts. All you need to do is let us know you're coming by
joining the event on Facebook
or rsvping to
[email protected]
.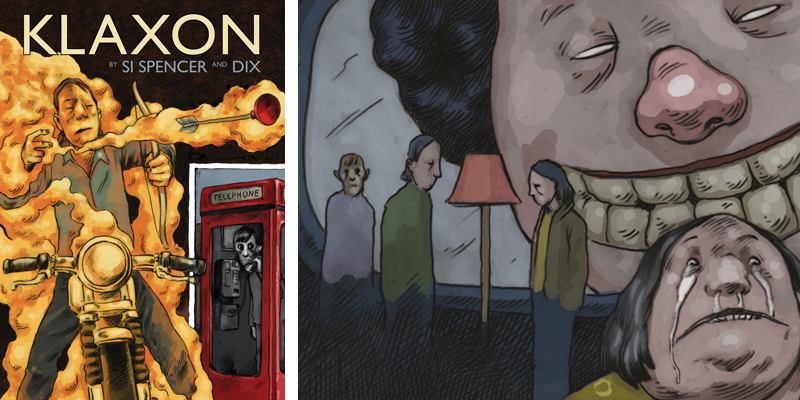 Turn up on time to catch musical adventurer Paul Mosley with his band. "A honeyed voice and a garage orchestra of sometimes disturbing magic realist folk-pop. Excellent." So wrote
Q Magazine
of his latest album,
A Chattering of Birds.
Joining Mosley at the Lord Clyde are the mighty Kung Fu Vicar.
So, what's
Klaxon
all about? Well, it's difficult to explain.
Tank Girl
creator Alan Martin has called it "an urban nightmare of finely balanced dialogue and artwork, as if Raymond Briggs teamed up with Daniel Clowes and they dropped the bad brown acid. Which is my idea of an evening well-spent." And our idea of a brilliant graphic novel.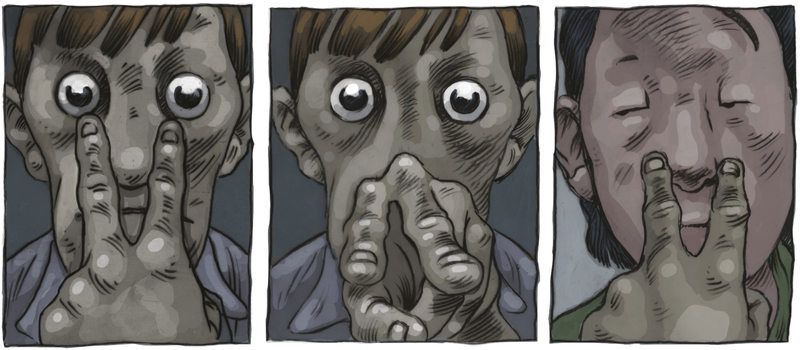 Here's the blurb:
Carlisle, one of three slackers high on wax and cavity wall insulation, finally has a reason to leave the house: new neighbours. But his offer to help Carol and her weeping mother move in incurs the wrath of their landlord, the grim, grinning Mr Stapleton, and his halfwit minion son. As Mr Stapleton's malign influence begins to plague both houses, the residents are afflicted by milk binges, metamorphoses and indoor confectionary storms. Inspired by the unspoken wisdom of a giant porcelain cherub, Carlisle realises he must take the fight to his enemy – only then will he have a chance of saving his friends and neighbours.
And here's the object in all its glory: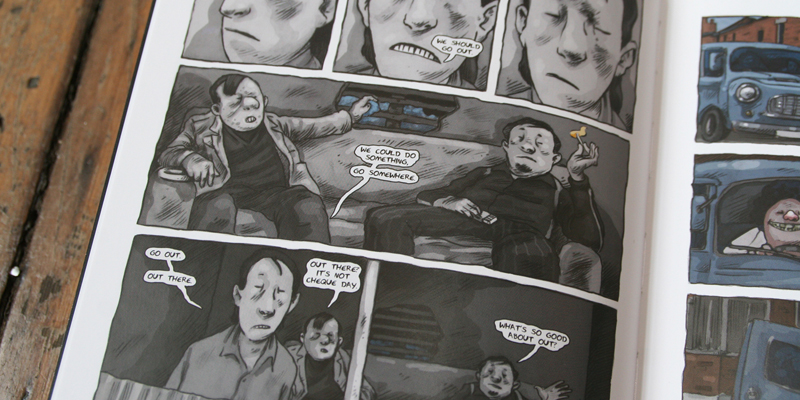 The Lord Clyde is located at 340-342 Essex Rd, London N1 3PB. It's close to Angel, Highbury & Islington and Essex Road stations. Join us in Jeremy Corbyn's heartland from 1.30-3.30pm!
Tags: