Upcoming Release: Room for Love by ILYA
5 November 2013
We're delighted to be publishing
Room for Love
, an original graphic novel by ILYA, on 15th November. Over the next week or two, ILYA will be blogging about the inspiration(s) behind the book, revealing what led him to write about an unconventional relationship between a homeless young man and a middle-aged romance novelist. In the meantime, here's the blurb and details of the launch event.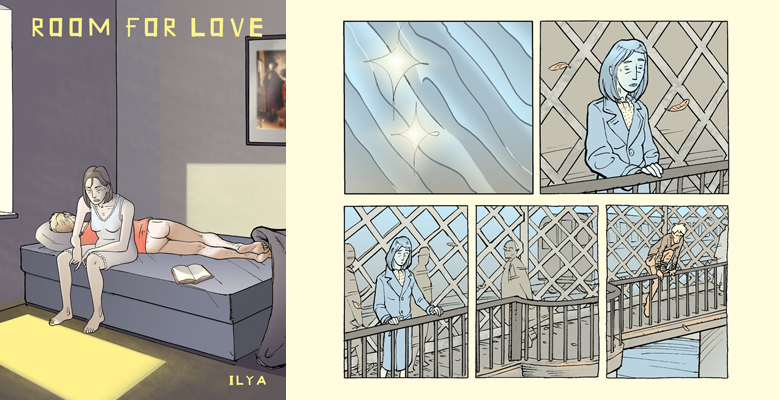 "Romance is dead." So says Pamela Green, middle-class and middle-aged – a romance novelist suffering from writer's block. Then, on a bridge crossing over the river, her unsettled life collides with that of a ragged young man. He's survived for months on London's streets, by his wits…and his looks. Under extraordinary circumstances Pamela invites him into her comfortable suburban home. There, in spite of obvious differences, they soon come to form an unlikely partnership, their once separate lives revived in stark new directions.
ILYA's work has been published by Marvel, DC and Dark Horse in the USA, Kodansha in Japan, and numerous independent companies worldwide. The creator of award-winning graphic novel series
The End of the Century Club
, his other works include Manga Shakespeare's
King Lear
and the kitchen sink drama
Skidmarks
. His Illustration clients include the BBC, the Royal Academy of Arts, and
The Guardian
and
Times
newspapers.
Room for Love
will launch at Gosh! Comics, 1 Berwick Street, London, W1F 0DR on Friday 15th November. The launch party is open to the public, so drop by from 7pm to grab yourself some free beer and a signed copy of the book.
Tags: