The Lakes Comic Art Festival: The Motherless Oven by Rob Davis
14 October 2014
Ahead of this weekend's
Lakes Comic International Art Festival
, we're blogging about some of the books and creators we'll be bringing with us to Kendal. First up, one of 2014's most anticipated graphic novels:
The Motherless Oven
by Rob Davis.
This brilliantly dark and imaginative book launches at the festival – and Rob Davis will be speaking about the book with Dr Mel Gibson on Saturday ("Teen Spirit", 15.30-16.30, Kendal Town Hall).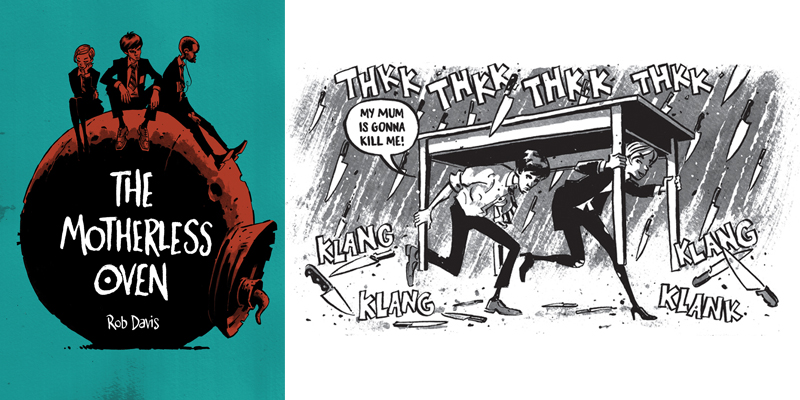 You may know Rob Davis from his Eisner-nominated
adaptation of Don Quixote
, for his work on Judge Dredd and Doctor Who, or perhaps for his reinvention of Roy of the Rovers. Here, he turns his talent to a moody and surreal tale of teenage life that confirms him as one of the most distinctive and inventive voices working in comics today.
In Scarper Lee's world, parents don't make children – children make parents. Scarper's father is his pride and joy, a wind-powered brass construction with a billowing sail. His mother is a Bakelite hairdryer. In this world, it rains knives and household appliances have souls. There are also no birthdays – only deathdays. Scarper knows he has just three weeks to live. As his deathday approaches, he is forced from his routine and strikes out into the unknown – where friendships are tested and authority challenged.

This unsettling and fiercely original coming-of-age story traces a journey through a bizarre, distorted teenage landscape: a world not so different from our own.

Sound good? Here's what the reviewers have been saying:
"Brimming with invention, Davis subverts and deepens the school adventure yarn and asks if anyone can escape their fate."
The Independent
"You're drawn in by its strange world and you come to care about its characters, and both are so vivid that the result is an outstanding piece of work."
SFX Magazine
"A graphic novel of incredible resonance and absolute, inscrutable beauty, at once a coming-of-age and coming-to-terms tale…"
The Library Journal
"Whether you choose to read it as an allegorical tale about questioning authority and defining yourself through art, as an autobiographical tale of the creator's teenage years, or as something else completely, The Motherless Oven is a brilliant graphic novel that you will never forget."
Starburst
(9/10)
Tags: