SelfMadeHero at Thought Bubble 2014!
12 November 2014
Unless you've been living in a cave, you'll know that this weekend sees
Thought Bubble
take over the Armouries in Leeds – and four of SelfMadeHero's creators will be signing, sketching and talking their way through the weekend!
Rob Davis, I. N. J. Culbard, Jörg Tittel and John Aggs will be on SelfMadeHero's tables (91-93, New Dock Hall) throughout the weekend. What's more, there'll be exclusive Thought Bubble discounts on all SelfMadeHero titles, signed and numbered book plates, and sketched-in graphic novels: reason enough alone to book a train to Leeds.
Thought Bubble sees the launch of
The Dream-Quest of Unknown Kadath
by I. N. J. Culbard. A masterful adaptation of H. P. Lovecraft's classic novella, Culbard's latest follows Randolph Carter on a journey through the Dreamlands in search of an opulent and mysterious sunset city. It's strange and gripping and frightening, and the colours are spectacular!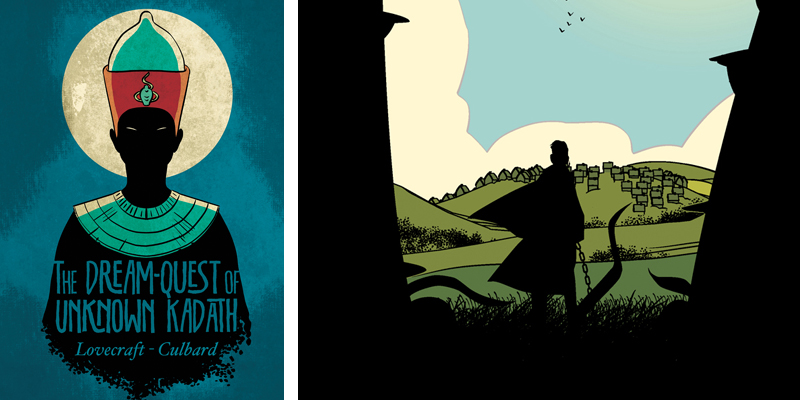 As if that weren't enough excitement for one weekend, Culbard's first original graphic novel,
Celeste
, is shortlisted in the Best Book category at the British Comic Awards. The ceremony takes place in the Armouries' Bury Theatre on Saturday evening, 6-7pm – and our fingers are firmly crossed!
Also in attendance is Rob Davis, author of the double Eisner-nominated adaptation of Don Quixote and, more recently,
The Motherless Oven
.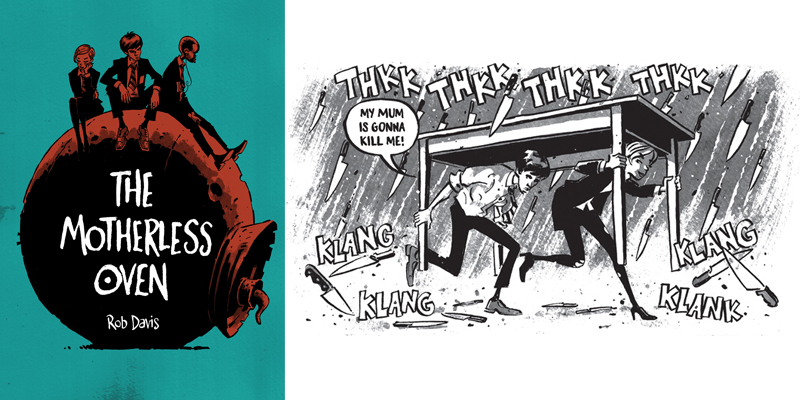 The Motherless Oven
was the talk of the town at The Lakes Comic Art Festival last month, and the critics have been singing its praises:
"Brimming with invention, Davis subverts and deepens the school adventure yarn and asks if anyone can escape their fate."
The Independent
"You're drawn in by its strange world and you come to care about its characters, and both are so vivid that the result is an outstanding piece of work."
SFX Magazine
"A graphic novel of incredible resonance and absolute, inscrutable beauty, at once a coming-of-age and coming-to-terms tale…"
The Library Journal
Davis will be signing throughout the weekend, and a signed and numbered book plate will be given away with every purchase.
Also on SelfMadeHero's tables will be Jörg Tittel and John Aggs, creators of the acclaimed
Ricky Rouse Has A Gun
.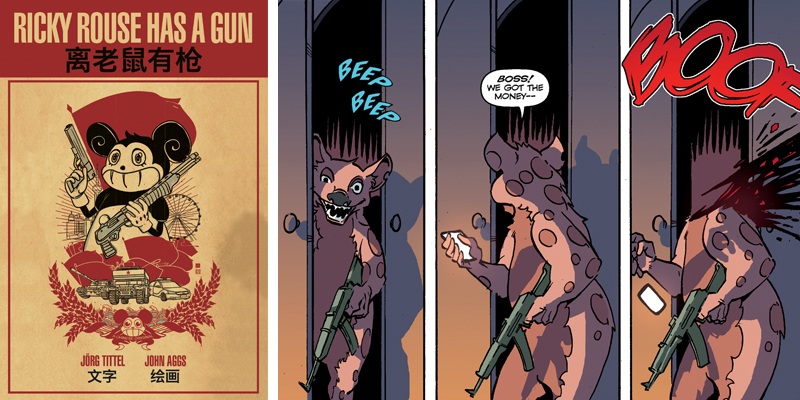 More than one critic has described this book as "Die Hard in Disneyland", but it's more than that: introduced by Christopher Sprigman, Professor of Law at NYU, this unique action comedy is a satirical comment on intellectual property and a perceptive look at a rip-off culture ripe with innovation. Alejandro Jodorowsky has said of the book, "I loved
Ricky Rouse Has A Gun
, a comic filled with deaths and yet full of life." A signed and numbered book plate will be given away with every copy of the book – and, for those who want luxury, the limited hardback edition will also be on sale.
On Sunday afternoon, all four creators will be discussing their work in the festival's Speech Bubble Panel area. Join them at 3pm to hear about their inspiration, how they work, and their views on the lively British graphic novel scene.
And, finally, something to alleviate the Thought Bubble comedown on Monday: we'll be handing out copies of our hot-off-the-press spring 2015 catalogue (available in digital format
here
). Pin it to your wall as a reminder of amazing things to come!
The Thought Bubble convention takes place at the Royal Armouries, Leeds, LS10 1LT, 10-5pm Saturday 15th and Sunday 16th November. The floor plan for New Dock Hall is available
here
. You can't miss SelfMadeHero – we're right by the entrance!
Tags: