Reinhard Kleist in Conversation with Paul Gravett, Thursday 6th March
20 February 2014
To launch his brand new graphic novel, The Boxer, Reinhard Kleist will be in conversation with Paul Gravett at the
Goethe-Institut
in London on Thursday 6th March (from 7pm). Hosted jointly by SelfMadeHero and Comica, this event is your only chance to hear Kleist speak about his award-winning biography of the Holocaust survivor and champion boxer Harry Haft. The event is completely free, but guests are asked to RSVP to
[email protected]
.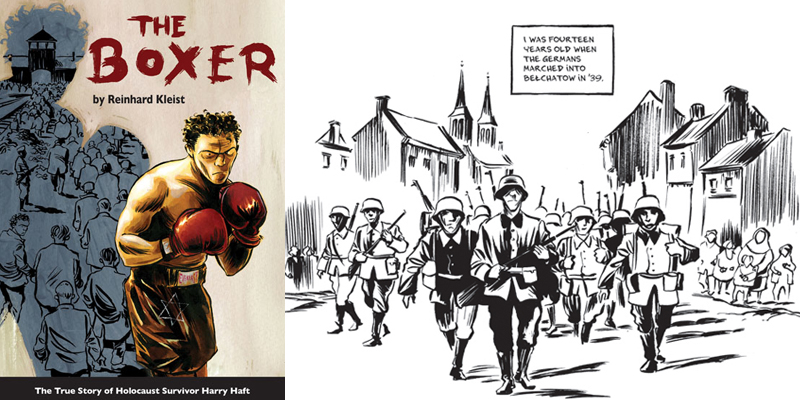 The Boxer
tells the true story of Hertzko Haft, a Polish Jew who was plunged into the horror of the concentration camps at sixteen and found himself forced into life-or-death boxing matches by his SS captors. His battles took him to the end of the Second World War and – against all the odds – liberation. After the war, having emigrated to America, Haft (now "Harry") established a career as a heavyweight prizefighter, which began with ten straight wins and ended with a defeat to the great Rocky Marciano in 1949.
Reinhard Kleist is a multi-award-winning graphic novelist. His books include
Johnny Cash: I See a Darkness
,
Castro
and
Havana: A Cuban Journey
. In January 2013, he became the first comic book artist to be awarded the B. Z. Kulturpreis for his contribution to Berlin's cultural scene. Kleist will be in conversation with Paul Gravett, Director of Comica, author of Comics Art, and curator of the upcoming British Library exhibition
Comics Unmasked: Art and Anarchy in the UK
.
The event takes place from 7pm at the Goethe-Institut, 50 Princes Gate, Exhibition Road, London, SW7 2PH. Admission is free but RSVP to
[email protected]
.
Tags: