In Conversation: Peter Kuper at the Strand Book Store in NYC
16 September 2015
On Tuesday 22nd September, fresh from his appearances at SPX and the Brooklyn Book Festival this weekend, Peter Kuper visits New York City's finest book store for the official launch of his hotly anticipated new graphic novel
Ruins
. The event takes place at 7pm in the
Strand Book Store
's beautiful 3rd floor Rare Book Room.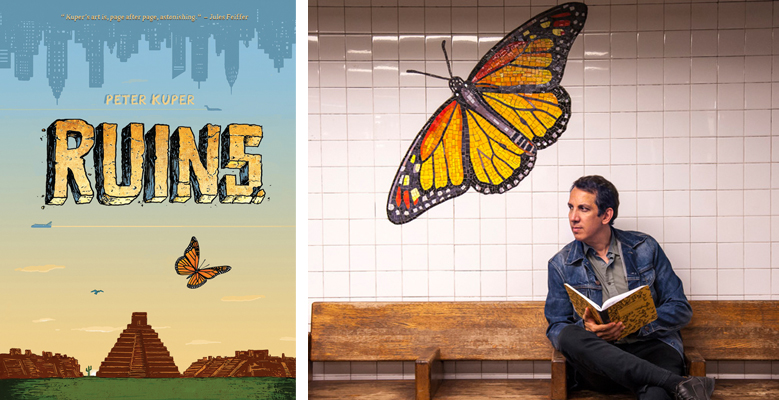 Kuper has created over a dozen graphic novels, including
The System
,
Sticks and Stones
and an adaptation of Franz Kafka's
The Metamorphosis
. He is co-founder of the political graphics magazine
World War 3 Illustrated
and, since 1997, has written and drawn "Spy Vs Spy" for
MAD Magazine
. His comics have appeared in
TIME
,
The New York Times
and many other publications. He has been teaching comics courses for over 25 years and is a visiting professor at Harvard University.
Ruins
tells the story of a New York couple who launch into a sabbatical year in the quaint Mexican town of Oaxaca. In tandem, the remarkable and arduous journey that a monarch butterfly endures on its annual migration from Canada to Mexico is woven into
Ruins
, creating a parallel picture of the challenges of survival in our ever-changing world.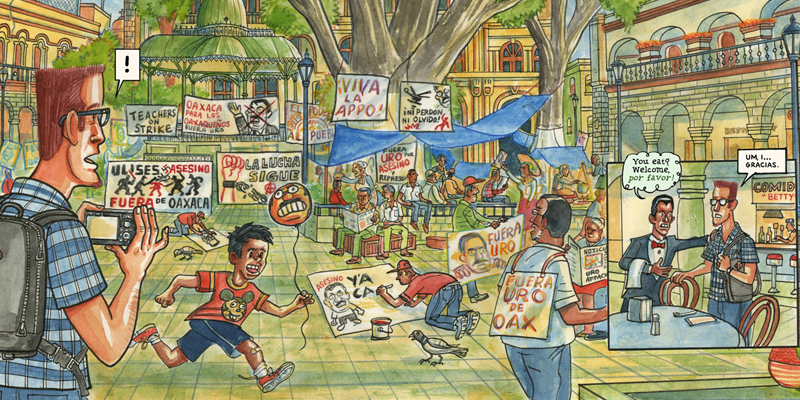 Here's what Pulitzer Prize-winning cartoonist
Jules Feiffer
has to say: "With a monarch butterfly serving in the role of all-seeing observer flying poetically above it all, the constantly remarkable Peter Kuper details the travels and travails of a creative NY couple who move to Oaxaca to find inspiration and revitalize their lives. Kuper's art is, page after page, astonishing."
And Publishers Weekly: "Magnificent… a beautiful, epic roman à clef about the importance of seeking the new and questioning the old."


Peter Kuper will be joined at the Strand by Karen Green, librarian of both Graphic Novels and Ancient and Medieval History at Columbia University. To attend the event, you'll simply need to buy a copy of Ruins or a $15 Strand gift card.
Tags: