STOP PRESS: Ricky Rouse is coming to Kendal
16 October 2014
That's right, folks: the eponymous hero of
Ricky Rouse Has A Gun
, Jörg Tittel and John Agg's acclaimed graphic novel, will be at the
Lakes International Comic Art Festival
this weekend, 18th-19th October. What's more, the authors will be in conversation with Dr Andrew Miles at the Brewery Arts Centre on Saturday (15.45-16.45). For more info – and to book tickets – click
here
.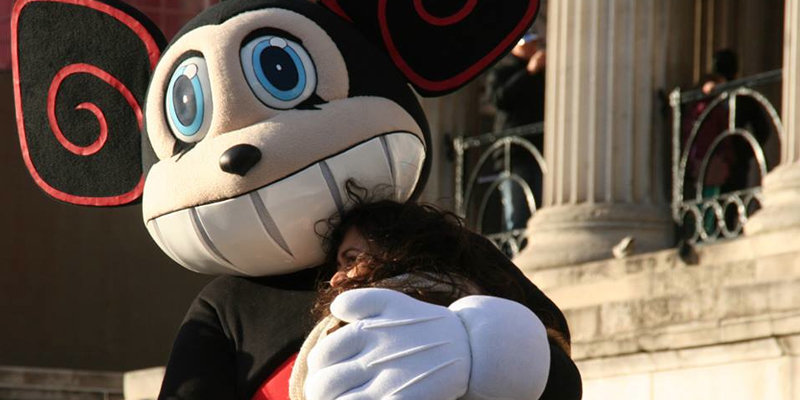 Described by some (or one) as "
Die Hard
in an amusement park",
Ricky Rouse Has A Gun
follows the story of Rick Rouse, a US Army deserter who gets a job at Fengxian theme park, a family destination heavily inspired by Western culture, featuring Rambi (the deer with the red headband), Ratman (the caped crusader with a rat's tail), Bumbo (small ears, big behind), and other original characters. When terrorists take the park hostage, only Rick Rouse – now employed as the cute and loveable Ricky Rouse – can save the day. In a furry costume.
Ricky Rouse Has A Gun
is at once an action comedy, a satire of US-China relations and a comment on intellectual property. Introduced by Professor Christopher Sprigman of
New York University
, it's been attracting a lot of attention. Here's what Alejandro Jodorowsky had to say: "I loved
Ricky Rouse Has A Gun
, a comic filled with deaths and yet full of life."
On Saturday, Jörg Tittel and John Agg will discuss this unique project, which has been supported by the existence of a life-size ripoff rodent crafted by the creators behind outfits for
Captain America
and
Guardians of the Galaxy
. Real-life Ricky, who'll be strolling the streets of Kendal this weekend, features in this music video soundtracked by James Lavelle (UNKLE).
Intrigued? You can read 33 pages of Ricky Rouse Has A Gun by downloading
this BitTorrent Bundle
.
Tags: