SelfMadeHero's Spring Party at Gosh! Comics
5 June 2013
To celebrate the publication of three fabulous new books, we're having a Spring Party at
Gosh! Comics
in London next Friday, 14th June, 7-9pm. Creators I. N. J. Culbard (
The Shadow Out Of Time
), Rob Davis (
Don Quixote
), and Mark Stafford and David Hine (
The Man Who Laughs
) will sign copies of their latest books in store. There will be free booze, beautiful graphic novels and fabulous company: what more could you ask for?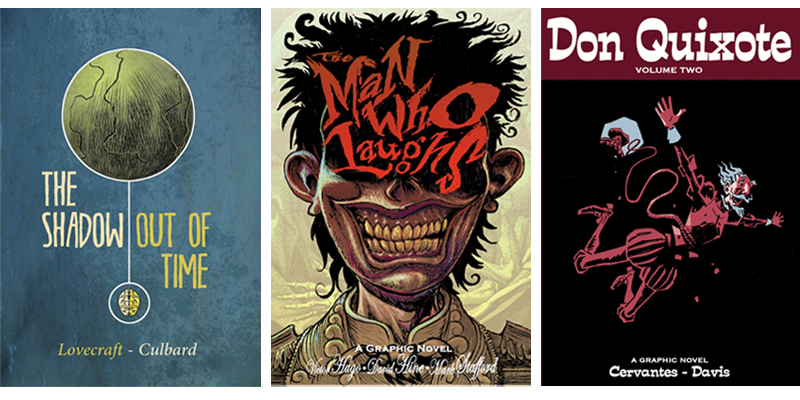 I. N. J. Culbard
is an award-winning artist and adaptor. He collaborated with Ian Edginton on the critically acclaimed Sherlock Holmes series, as well as adapting H. P. Lovecraft's
At the Mountains of Madness
and
The Case of Charles Dexter Ward
for SelfMadeHero. He illustrates the Vertigo mini-series
The New Deadwardians
and has collaborated with Chris Lackey and Chad Fifer on an original graphic novel,
Deadbeats
(SelfMadeHero). His latest book is an adaptation of H. P. Lovecraft's
The Shadow Out Of Time
(SelfMadeHero).
Rob Davis
is best known for reinventing
Roy of the Rovers
and for drawing Judge Dredd (Rebellion). He has written and illustrated Doctor Who (Panini) and is the editor of the Eisner-nominated comic anthology
Nelson
, winner of the British Comic Awards 2012. His latest book is the second and final volume of his adaptation of
Don Quixote
(SelfMadeHero).
David Hine
has worked in comics since the 1980s, and has written for DC (
Batman: Detective Comics
,
Arkham Unhinged
;
Deathstroke: Faces of Evil
), Marvel (
Spider-man Noir
,
X-Men
,
Silent War
) and 2000 AD (Tao De Moto). He collaborated with Mark Stafford on "The Colour Out Of Space" for SelfMadeHero's critically acclaimed
Lovecraft Anthology Vol. I
.
Mark Stafford
is a cartoonist-in-residence at the Cartoon Museum. He has collaborated with Bryan Talbot on the second
Cherubs!
graphic novel, painting dead hillbillies and writing about cinema for
Electric Sheep
magazine.
Mark Stafford and David Hine have collaborated on an acclaimed adaptation of Victor Hugo's
The Man Who Laughs
, famously the inspiration behind the character of the Joker in Batman.
There's no need to RSVP. Just show up, bag some beautiful books and free beer, and enjoy the company!
Tags: