SelfMadeHero Launch Paul Collicutt's The Murder Mile in Brighton
27 February 2013
Last Thursday, Brighton's graphic novel fans gathered at the brilliant Dave's Comics on Sydney Street for the launch of
The Murder Mile
by Paul Collicutt. The book, which is the
Observer
's Graphic Novel of the Month for February, is a pacey crime thriller set against the backdrop of the race to break the four-minute mile barrier.

In the Observer, Rachel Cooke said of the book, '
The Murder Mile
is like Chariots of Fire as rewritten by Raymond Chandler, a mash-up that is completely delightful on the page… It's magical.' As Roger Bannister, John Landy and others battle to break the four-minute mile barrier, private investigator Daniel Stone investigates the death of a promising young American athlete. As he looks into allegations of race-fixing, Stone soon finds himself caught in a dangerous web of conspiracy and corruption.
The Murder Mile
combines Paul Collicutt's talent for sequential art with his love of track and field. As well as being an award-winning illustrator, he is a club runner, a qualified athletics coach and Chairman of the Phoenix Athletics Club.
Joining members of the comics and athletics community, another graphic novel fan, the Mayor of Brighton, also attended the launch – a grand addition to great evening.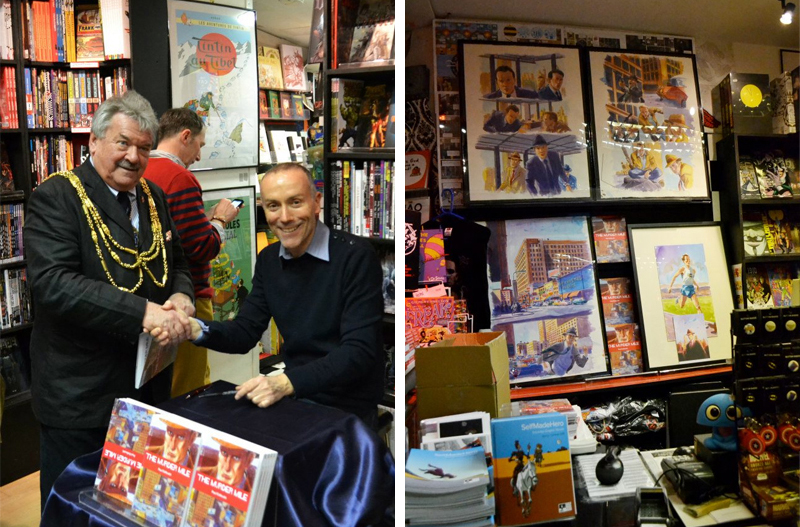 A huge thanks to everyone who came, and to the staff at Dave's Comics for providing such a fantastic venue.
You can read Rachel Cooke's review of The Murder Mile in full
here
.
Tags: