Ruins by Peter Kuper wins the Eisner Award for Best Graphic Album
25 July 2016
That's right, folks: Peter Kuper's
Ruins
has won the biggest prize in English-language comics! Kuper's graphic novel, which explores the shadows and light of Mexico through its past and present, scooped the Eisner Award for Best Graphic Album. We
love
this book, and we're delighted it's won the recognition it deserves.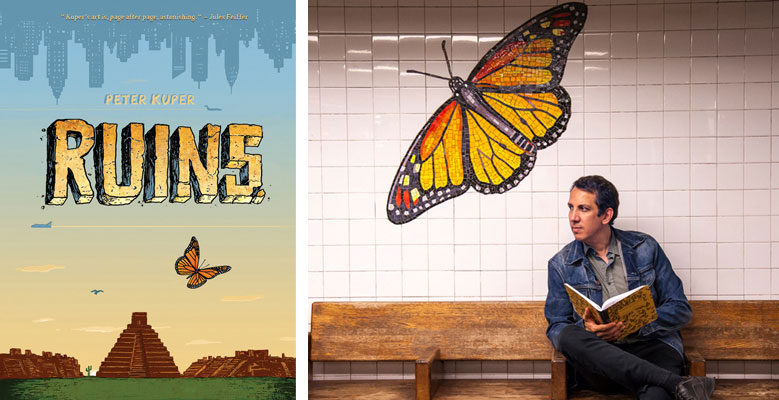 The winners of the so-called "Oscars of comics" were announced at the
San Diego Comic Con
. Here's a picture of Peter Kuper alongside Congressman John Lewis, winner of the award for Best Reality-Based Work for the second volume of
March
.
Ruins
tells the story of a New York couple who launch into a sabbatical year in the quaint Mexican town of Oaxaca. In tandem, the remarkable and arduous journey that a monarch butterfly endures on its annual migration from Canada to Mexico is woven into the book, creating a parallel picture of the challenges of survival in our ever-changing world.
Publishers Weekly
said of
Ruins
, "[it's] magnificent… a beautiful, epic roman à clef about the importance of seeking the new and questioning the old."
Kuper has created over a dozen graphic novels, including
The System
,
Sticks and Stones
and an adaptation of Franz Kafka's
The Metamorphosis
. He is co-founder of the political graphics magazine
World War 3 Illustrated
and, since 1997, has written and drawn "Spy Vs Spy" for
MAD Magazine
. His comics have appeared in
TIME
,
The New York Times
and many other publications. He has been teaching comics courses for over 25 years and is a visiting professor at Harvard University.
Newsflash #2
: A special mention, too, for our friends at
Orbital Comics
in London. They scooped the Will Eisner Spirit of Retailing Award. Congratulations!
Tags: