Ricky Rouse Has A Gun: Limited Edition Hardback
9 June 2014
THE NEWS
On Thursday this week, 12th June, we're releasing a limited edition hardback of
Ricky Rouse Has A Gun
by Jörg Tittel and John Aggs, a stunning, brilliant and utterly bonkers graphic novel set in a knockoff Disney theme park. Find it in a comic shop near you, or order it online.
THE STORY SO FAR
You may have heard of him already, Ricky Rouse. He's the rip-off rodent, as loveable as he is original, who starred in that memorable music video that featured a brand new track by UNKLE's James Lavelle. Haven't seen it? Do:
You may even have infringed SelfMadeHero's copyright – shame on you! – by downloading the first 33 pages as part of the BitTorrent Bundle offered up by militant anti-piracy campaigners Rickyleaks.org. They did this to damage the book's reputation – just, they say, as
Ricky Rouse Has A Gun
damages the property of the Hollywood creatives whose boundless creativity has brought joy to the lives of so many for so long. It didn't work.
After hundreds of thousands of downloads, the first 33 pages of
Ricky Rouse Has A Gun
might be disseminated beyond the point of (digital) retrieval, but we're bringing it to you in a format no pirate can touch: a handsomely produced, beautifully bound, gold-foiled hardback. It is a thing of beauty only the most ruthless criminal would attempt to steal. (N.B., Ricky leaks.org: we have notified the country's comic shops that additional security may be required.)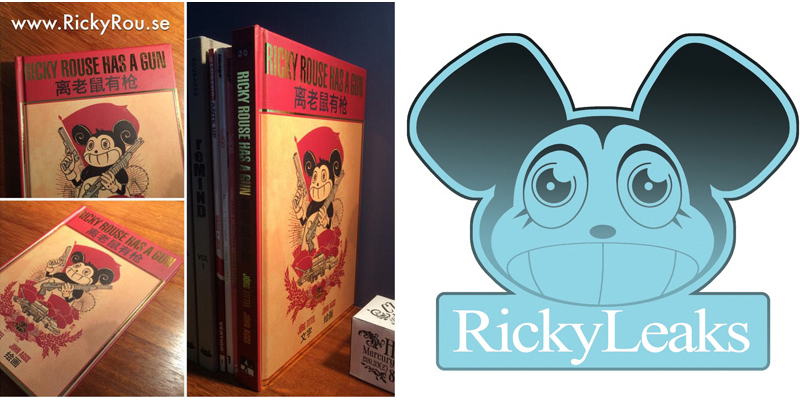 WHAT'S IT ALL ABOUT?
Set in a knockoff Disney theme park, this original graphic novel is a relentless action comedy, a satire of US-China relations, and a parody of Western entertainment. It follows the story of Rick Rouse, a US army deserter who takes a job at Fengxian Amusement Park, a family destination heavily "inspired" by Western culture, featuring Rambi (the deer with the red headband), Ratman (the caped crusader with a rat's tail), Bumbo (small ears, big behind), and other original characters. But when American terrorists take the entire park hostage, only Ricky Rouse can save the day. In a furry costume.
Ricky Rouse Has a Gun
takes a curious look at China – a country that, once we look past its often outrageous copyright infringements, is a culture ripe with innovation and a unique, courageous spirit. The book features an introduction by Christopher Sprigman, Professor of Law at New York University and author of
The Knockoff Economy: How Imitation Sparks Innovation
.
"One big heap of fun." — Forbidden Planet International
"Looks set to be huge" — Comic Review (Comic Heroes)
FURTHER READING
Can a Graphic Novel Change Attitudes On IP?
: an interview with Jörg Tittel on BitTorrent's blog
Ricky Rouse Has A Gun: Mouse Madness From Jörg Tittel and John Aggs
: a feature on the Forbidden Planet International Blog
Rickyleaks.org
: Blog: hear what the militant anti-piracy campaigners are saying about the book. It's hilarious.
Read
an extract from Ricky Rouse Has A Gun
on the wonderful literary blog Bookanista.com
Tags: