Launch: The Castle by Jaromír 99 and David Zane Mairowitz
4 June 2013
This week sees the launch of a graphic adaptation of Franz Kafka's
The Castle
by the Czech artist Jaromír 99 and David Zane Mairowitz, who previously adapted
The Trial
for SelfMadeHero.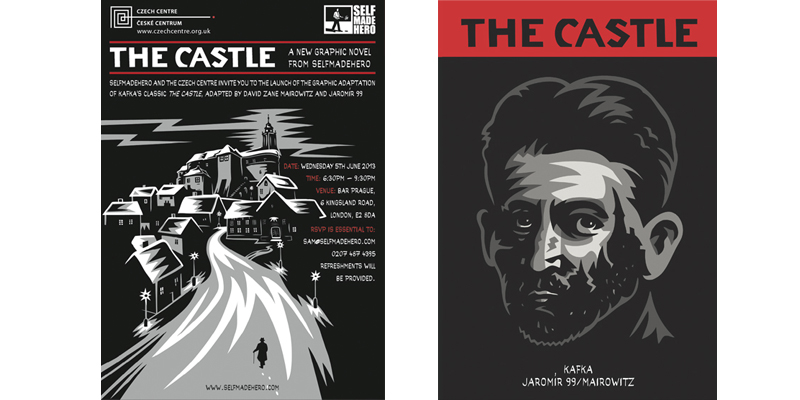 The launch party will take place in
Bar Prague
in Shoreditch, where a selection of Jaromír 99's original artwork will be exhibited until Saturday 15th June. Jaromír 99 and David Zane Mairowitz will be in attendance, so come along to drink beer, admire the artwork and get your copy signed. RSVP to
[email protected]
.
About the book and its creators:
When a land surveyor, known only as "K.", is summoned to the Village, he is forced to negotiate an obscure hierarchy – among assistants and messengers, chambermaids and landladies, masters and … mistresses. But how is he to receive his instructions from the Castle when no one knows what his employer looks like, telephones ring unanswered, and there is anyway no land to survey? A piercing study in futility, Franz Kafka's final masterpiece ends – much like life itself – in mid-sentence.
David Zane Mairowitz
is an author, playwright, radio director and translator who has published numerous books, including Introducing Kafka (with Robert Crumb), Introducing Camus, and Wilhelm Reich for Beginners. His theatrical plays include a critically acclaimed version of Kafka's The Trial. He previously adapted Dostoevesky's Crime and Punishment and Kafka's The Trial for SelfMadeHero.
Czech-born Jaromír 99 is a accomplished singer, songwriter, and artist who is best known for his work with Jaroslav Rudis on the comics trilogy
Alois Nebel
.
Alois Nebel
was turned into an animated feature of the same title that premiered to great acclaim at the Venice Film Festival, and was selected as the Czech entry for the Academy Award for Best Foreign Language Film in 2011.
Alois Nebel
won Best Animated Feature at the 2012 European Film Awards.
Tags: