It's Our 10th Birthday!
7 February 2017
A decade ago today, SelfMadeHero published its first two books. A party at Bloomsbury's Horse Hospital saw the launch of the first two titles in the Manga Shakespeare series:
Romeo and Juliet
and
Hamlet
.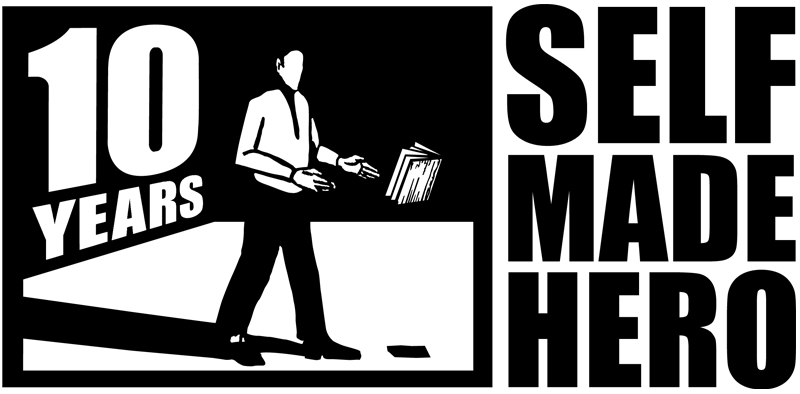 Since then, we've published over 100 graphic novels, and our list has grown to include graphic biographies, original fiction, gift books and a whole lot more. This expansion is a testament to the richness and diversity of today's graphic novel landscape. A decade on, the graphic novel remans an increasingly vital and ubiquitous part of our culture, and at the heart of this rise is an amazing community of talented, tireless creators.
Our anniversary year will see a number of celebratory events and activities take place. But for now, we'd simply like to thank everyone who's been involved in our story over the last ten years – especially our fabulous artists and writers. In no particular order:


Richard Appignanesi, Sonia Leong, Emma Vieceli, Kate Brown, ILYA, Patrick Warren, Nani Li, Robert Deas, Mustashrik, Chie Kutsuwada, Ryuta Osada, Faye Yong, Paul Duffield, Merlin Evans, Cally Law, Sylvain Coissard, Alexis Lemoine, Lisa Wrake, Andrew Collins, Martin Rowson, David Zane Mairowitz, Chantal Montellier, Jaromír 99, Ian Edginton, I.N.J. Culbard, Peter Sís, Leopold Maurer, Margaux Motin, Typex, Barbara Stok, Clément Oubrerie, Julie Birmant, Andrzej Klimowski, Danusia Schejbal, David Hine, Mark Stafford, Will Sweeney, John Matthews, Catherine Anyango, Alain Korkos, JAKe, Robert Sellers, Arne Bellstorf, Rob Davis, LAX, David B., Jean-Pierre Filiu, Edward Ross, André Diniz, Maurício Hora, Will Bingley, Anthony Hope-Smith, Catel Muller, José-Louis Bocquet, Reinhard Kleist, Paul Collicutt, Oscar Zarate, Glyn Dillon, Christophe Blain, Abel Lanzac (a.k.a. Antonin Baudry), Scott McCloud, Philippe Nicloux, Laurent-Frédéric Bollée, Jérémie Dres, Li Kunwu, Philippe Ôtié, Judith Vanistendael, Frederik Peeters, Javier Mariscal, Fernando Trueba, Patrick McEown, David Prudhomme, Dan Lockwood, Leah Moore, John Reppion, Leigh Gallagher, Matt Brooker, Shane Ivan Oakley, David Hartman, Alice Duke, Ben Templesmith, Jamie Delano, Simon Spurrier, Ben Dickson, Chris Lackey, Chad Fifer, Dwight L. MacPherson, Steve Pugh, Attila Futaki, Matt Timson, Mick McMahon, Adrian Salmon, Bryan Baugh, Warwick J Cadwell, Nicolas Fructus, Paul Peart-Smith, Aneke, Kit Buss, Fouad Mezher, Alisdair Wood, Bryan Lee O'Malley, Black Francis, Josh Frank, Steven Appleby, Nick Abadzis, David Camus, Jörg Tittel, John Aggs, Si Spencer, DIX, Slava Harasymowicz, Dan Whitehead, Peter Kuper, Barbara Yelin, Steffen Kverneland, Anne Martinetti, Guillaume Lebeau, Alexandre Franc, Deborah Levy, Mike Medaglia, Fionnuala Doran, Edmond Baudoin, Box Brown, Aimée de Jongh, Néjib, Fabrizio Dori, Paolo Bacilieri, Chris W. Kim, Pieter Coudyzer and anyone I may have missed.


Anyone who'd like to know what the last 10 years of graphic novels has comprised could do worse than to Google these names. Ditto if you're wondering what the future's likely to bring. (Spoiler: it's looking good!)
Tags: