Friday 5th September: Ricky Rouse Has A Gun Launches at Gosh! Comics
26 August 2014
Next Friday, 5th September, we launch
Ricky Rouse Has A Gun
by Jörg Tittel & John Aggs at
Gosh! Comics
, 1 Berwick Street, W1F 0DR, 7-9pm.
You might've heard about this brilliantly bonkers action comedy, described by
some
as Die Hard set in a knockoff Disney theme park; you might even have seen the eponymous hero at Angoulême or COMICA Comiket; perhaps you were one of the hundreds of thousands of copyright criminals who downloaded a large chunk of the manuscript through this (unsolicited)
BitTorrent Bundle
; or maybe you read a review somewhere.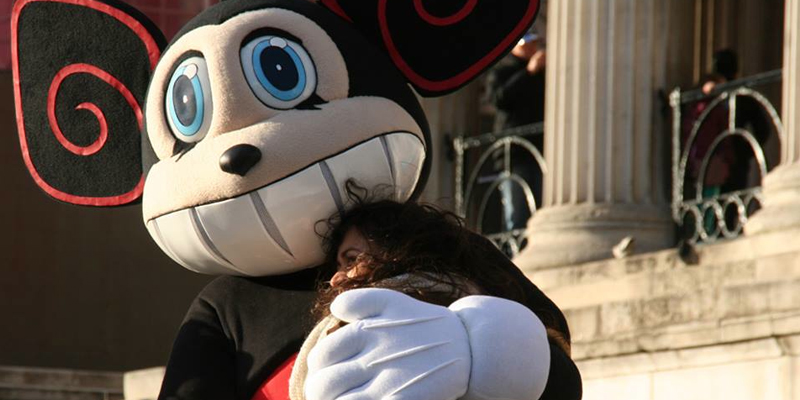 Whether you have or haven't been caught up in the web of Ricky mania over the last few months, the official launch party is not to be missed. Featuring all the usual Gosh! trimmings (free beer, amazing company), the launch also promises an appearance from Ricky Rouse himself. That's right, the life-size ripoff rodent is coming to Berwick Street! Come along, drink beer, and take a selfie with the star of one of 2014's most exciting graphic novels! Or just have a hug…
To get yourself in the mood, you might like to dance along to the Ricky Rouse music video, which features an original track by UNKLE's James Lavelle, curator of this year's Meltdown Festival.
Or, for the more sophisticated, check out these highbrow quotes:
"I loved [
Ricky Rouse Has A Gun
]. It is a book filled with deaths and yet full of life." Alejandro Jodorowsky
"Tittel and Aggs flip our cheeriest, most-beloved icons on their heads to create a story as thrilling as it is bizarre. In their world, an amusement park is a thing of gloom, friendly cartoon characters are out for blood and the copycat "Ricky Rouse" is a hero to root for. Their story of knockoffs behaving badly is a true original itself."
Bianca Bosker,
The Huffington Post
Author of
Original Copies: Architectural Mimicry in Contemporary ChinaRicky Rouse Has A Gun
is published nationwide on 5th September. It features an introduction by Christopher Sprigman, Professor of Law at NYU and author of The Knockoff Economy. It's awesome; you should buy it.
Coming to the launch? Spread the love by joining
the event on Facebook
!
Tags: