‪Coming Soon: Ricky Rouse Has a Gun‬
9 April 2014
‪This week, at the London Book Fair, we're thrilled to be revealing news of an upcoming release:
Ricky Rouse Has a Gun
by Jörg Tittel and John Aggs. Set in a knockoff Disney theme park, this original graphic novel is a relentless action comedy, a satire of US-China relations, and a parody of Western entertainment. It follows the story of Rick Rouse, a US army deserter who takes a job at Fengxian Amusement Park, a family destination heavily "inspired" by Western culture, featuring Rambi (the deer with the red headband), Ratman (the caped crusader with a rat's tail), Bumbo (small ears, big behind), and other original characters. But when American terrorists take the entire park hostage, only Ricky Rouse can save the day. In a furry costume.
Ricky Rouse Has a Gun
takes a curious look at China – a country that, once we look past its often outrageous copyright infringements, is a culture ripe with innovation and a unique, courageous spirit. The book features an introduction by Christopher Sprigman, Professor of Law at New York University and author of
The Knockoff Economy: How Imitation Sparks Innovation
.‬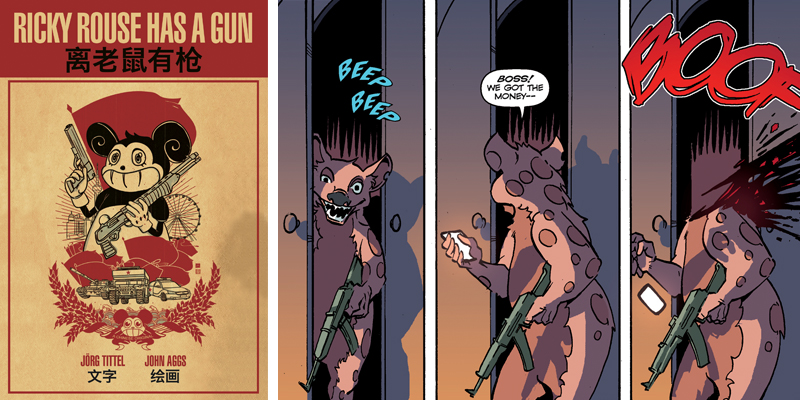 COPYRIGHT VS. CREATIVITY: A LONDON BOOK FAIR DEBATE
To coincide with the announcement of the book, SelfMadeHero are hosting a panel discussion at the London Book Fair, which will centre on some of the issues raised by the book. Chaired by
The Guardian
's Technology Reporter Alex Hern, the debate will feature the book's author, Jörg Tittel, as well as BitTorrent's Chief Content Officer Matt Mason (author of
The Pirate's Dilemma
) and musician, songwriter and
Guardian
columnist Helienne Lindvall. Titled "Copyright Vs Creativity: Is Intellectual Property Reserved for the 1%", the panel asks whether copyright has lost one of its principle functions: to protect authors and to combat fakes. It takes place on Thursday 10th April, in the Thames Room, Earls Court 1, 1pm-2pm.
PRE-ORDER THE LIMITED EDITION HARDBACK
Ahead of its paperback release in September, we'll be publishing a limited-run "Gold Edition" of
Ricky Rouse Has a Gun
on June 12th. Available a full three months ahead of the book's official release, this lavishly produced hardback is an object worth owning. The print run will be limited to just 500 copies, so you must pre-order.
To pre-order the Gold Edition of Ricky Rouse Has a Gun (£24.99 + P&P, out 12th June), drop an email to
[email protected]
. The first 20 pre-orderers will have their book signed by Jörg Tittel and John Aggs.
You can pre-order the paperback edition of
Ricky Rouse Has a Gun
(out September 11th)
here
.
Tags: