Bryan Lee O'Malley's Seconds Gets an Early Release!
29 July 2014
You'll have heard that SelfMadeHero are the enormously proud UK publisher of
Seconds
, the brand new standalone graphic novel from the creator of Scott Pilgrim, Bryan Lee O'Malley. Since its Stateside release a couple of weeks ago, the noise and anticipation has been building amongst UK readers. Well, we can reveal that fans on this side of the Atlantic need wait no longer: WE'RE RELEASING SECONDS THIS WEEK!
Copies of the book, lauded by Guillermo del Toro and Scott McCloud (amongst others), have left the SelfMadeWarehouse and are on their way to the finest book shops across the land. This weekend, you'll be able to get your hands on this object of beauty: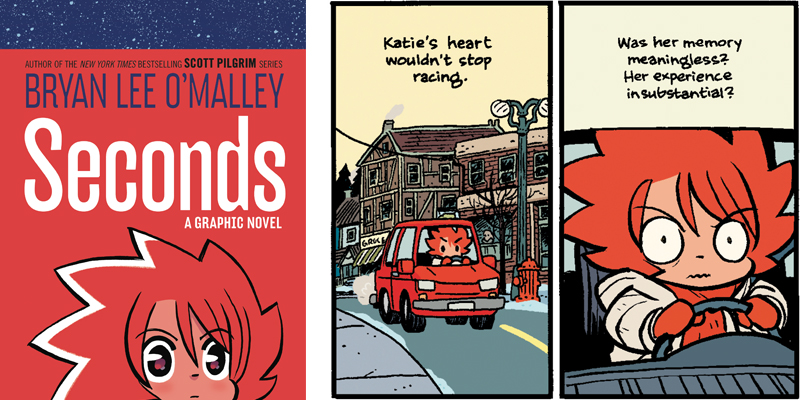 AND AS IF THAT WASN'T ENOUGH…
In mid-August, Bryan Lee O'Malley will embark on a nationwide tour, taking in the British Library, COMICA Comiket, the Edinburgh Book Festival, and loads of amazing comic book shops. Here are the dates for your diary (click on the links for details):
Thursday 14th August:
Gosh! Comics (signing and drinks), 7-9pm


Friday 15th August:
The British Library (talk and signing), 6.30-8pm


Saturday 16th August:
COMICA Comiket (signing on SelfMadeHero's table), until 2pm


Sunday 17th August:
Forbidden Planet International, Edinburgh (signing), 12-1pm


Sunday 17th August:
Edinburgh International Book Festival (talk and signing), 4.30-5.30pm


Monday 18th August:
Page 45, Nottingham (signing and celebration of the 10th anniversary of Scott Pilgrim), 5-8pm


Tuesday 19th August:
Travelling Man, Leeds (signing), 3-5pm


Tuesday 19th August:
Travelling Man, Manchester (signing), 7-9pm


Wednesday 20th August:
Forbidden Planet, Dublin (signing), 5-7pm
WHAT THE CRITICS ARE SAYING
"In
Seconds
, Bryan Lee O'Malley plays the angst of youth against the fabric of a larger epic. In doing so, he enriches both. A great ride!" Guillermo del Toro
"Bryan Lee O'Malley's
Seconds
is adorable, haunting, funny, and beautiful. A perfect recipe for a great graphic novel." Scott McCloud
"Richly imagined and vibrantly drawn,
Seconds
is a funny, surprising, and enchanting read."
Publishers Weekly
"
Seconds
arrives with high expectations, and it meets them all, delivering the style and humour of O'Malley's past works with greater emphasis on mood, detail, and complex character relationships."
The A.V. Club
Tags: