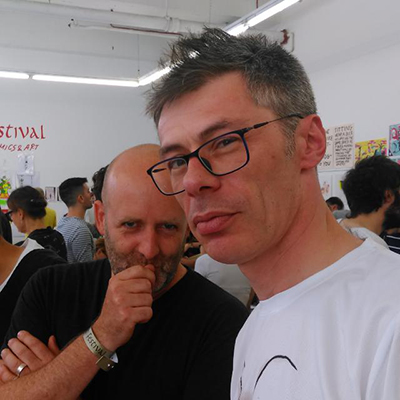 Krent Able & Julian Hanshaw
Krent Able is a comic artist and illustrator, living in London. His comics first appeared in the Stool Pigeon music magazine in 2009, and were later collected in his Krent Able's Big Book Of Mischief, published by Knockabout in 2012. His work has since appeared in the Guardian, NME and Vice, and was included in the Comics Unmasked exhibition at the British Library in 2014. In 2016, he co-wrote an award-winning documentary film about his work, Ink, Cocks & Rock 'N' Roll.

Julian Hanshaw won the Observer Comica Short Story Award in 2008. His graphic novels include the Prix Europa-winning The Art Of Pho, as well as I'm Never Coming Back and Cloud Hotel, and he also contributed to Hoax: Psychosis Blues. His graphic novel Tim Ginger was shortlisted for The British Comic Award and the LA Times Book Prize. He has animated on BAFTA-winning shows and his own animation won The Golden Reels in Los Angeles. Julian lives on the south coast of the UK.